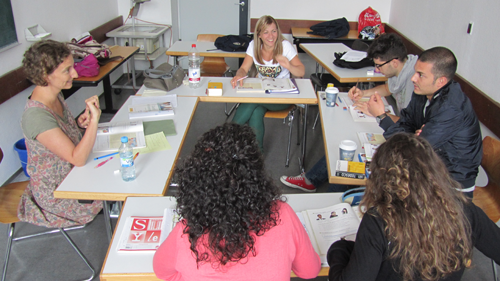 Katja Vanessa Parmar is a qualified language teacher with a BA in Literature and Linguistics and an MA in Phonetics from University College London.
Katja has been co-ordinating part-time the German programme at the City Literary Institute, London since 2001. As well as teaching private students, she has also been teaching German for the following organisations for the last 20 years:
Goethe Institute Freiburg
Sprachlehrinstitut, Universität Freiburg
Foreign & Commonwealth Office
King's College London
Royal Opera House, London
Royal Academy of Music, London
Katja's teaching philosophy embraces the idea that the more fun the learning experience is and the more the student is allowed to develop in his/her own pace, the more beneficial the lessons will be. Her teaching approach combines all aspects of the German language (reading, writing, speaking, listening and grammar), although emphasis is placed on communication.
My lessons are always tailor made.
Since every student is regarded as an individual, the student is encouraged to bring as much of his/her own material as he/she wishes. A suitable course book is discussed after the second lesson to encourage continuity and commitment. Specialised materials such as handouts and CDs are all provided by me.
Katja teaches privately at her London home or by arrangement.